Featured on national radio and in the Guardian, Holly Swinton is a popular public speaker and media commentator on the subject of dyslexia and education. She organises workshops for parents, schools and community groups.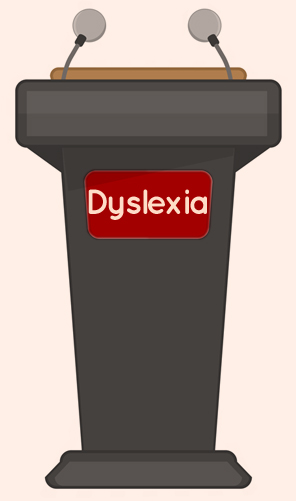 As the author of the parenting book, Defeat Dyslexia!, the founder of Dyslexia Midlands, and being dyslexic herself, Holly is uniquely placed to speak about dyslexia.
What's more, having studied performance at college and university, Holly is a genuine, funny and passionate public speaker.
Being a qualified primary school teacher means that Holly speaks with an empathy for the difficulties facing schools. She can also offer a wealth of ideas about what can be achieved in education with limited time and money.
Her passion and honesty also make her a firm favourite with the media, both local and national, and she is often asked to comment on recent news stories.
Get in touch with Holly to discuss her speaking at your school, group, event or conference.
Speaking topics
The topics on which Holly speaks are varied, but popular ones include:
INSET training: dyslexia intensive course
A-Z of dyslexia
Top tips for parents
Quick and free fixes for the new SEND (special educational needs and disability) provisions
Unlocking handwriting success
Dyslexia and co-occurring conditions
Dyslexia, dyscalculia and maths
Dyslexia, dyspraxia and ADHD – fast learner, fast forgetter
Feedback from recent speeches, INSET training and courses: 
"I feel much more able to cope with the daily battle of homework and now have a plan of how to tackle my son's dyslexia. I have sent a copy of your PowerPoint to the head of learning support and feel more positive already."
– Parent of dyslexic child
"Loved all the practical ideas and experiencing the feeling of being in the children's shoes. Really engaging!"
– Teacher at a private school
"I have learned so much and feel much more equipped and confident in supporting a child in my class who has dyslexia. All three sessions were very informative and we were introduced to some great resources. Can't thank you enough."
– Teaching Assistant
"I particularly like the fact that there were so many suggestions for small, quick 'fixes'. On a typical busy school day knowing that I can quickly try these and they make a difference encourages me to try more to help my students."
– Special Educational Needs Coordinator of Academy
"Your enthusiasm, extensive knowledge and thorough preparation have made this course a really enjoyable and enriching experience."
–  Higher Level Teaching Assistant
Save