Holly Swinton has a limited number of tutoring slots available. She provides personalised tutoring to adults and children aged 3-18 in Kenilworth, Warwick, Leamington Spa, Coventry, Rugby, Stratford and the surrounding area.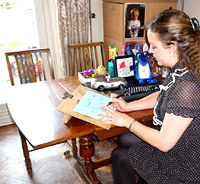 Tutoring sessions take place at Holly's Kenilworth home, which has plenty of room and a warm atmosphere (with gentle pets for your child to cuddle).
Weekly or fortnightly half-hour term-time sessions are only £30 for a half-hour or £50 for an hour.
Unlike sessions from many other tutors, these tutoring sessions are completely tailored to your child's exact needs, interests and learning style, so children tend to make very rapid progress. There is brief verbal feedback during each session, and you are welcome to bring worries, requests and questions.
Holiday sessions are also available, if you want to give your child a boost when they are freshest and have the brain space to make real progress.
School tutoring from Holly may be available at your child's school for £60, which includes travel time and petrol.
Tutoring is available for:
English – reading, phonics, spelling, handwriting, sentence construction or just hating writing
Maths – times tables, word problems, telling the time, fractions or just feeling a bit wobbly
Specific Learning Difficulties, including dyslexia, dyspraxia, dyscalculia, attention deficit hyperactivity disorder (ADHD) and autism spectrum disorder (ASD)
You can expect the following benefits:
Personalised learning sessions tailored to your child's specific needs
A nurturing environment, with an emphasis on making learning fun
Puzzles, games, fun worksheets and other free home study materials to borrow each week
Regular assessments and feedback
Rapid progress as a result of targeted learning support
More information:
Qualified teacher
Holly has a PGCE in primary school teaching and QTS (Qualified Teacher Status) under the General Teaching Council, the governing body for teachers.
DBS-checked
Holly carries an enhanced DBS (formerly CRB) disclosure, which means she is recognised by law to care for, supervise, train or be in sole charge of children or vulnerable people.
Stay for the session, or drop off your child – it's up to you
If you would like to sit in on the tutoring sessions, you are more than welcome. However, there is no need to accompany your child, and most parents take advantage of the three supermarkets around the corner and other nearby shops.
Additional needs
Holly has taught children with a range of additional needs, as well as some who are simply shy, angry or apathetic. This means that very little fazes her.