I firmly believe that learning to touch-type is as close to a silver bullet as you can get if your teen is dyslexic. It can be the perfect (non-patronising) way for them to go back to basics with reading and spelling to fill in their shaky foundations. In my dyslexia assessments, I often recommend teenagers and adults to use a touch-typing programme which is phonics-based.
Touch Type Read Spell (TTRS) is well-known as the gold standard touch typing programme for dyslexics, but it is pricey (about £60 a year) but you can get 10% off by clicking here and entering the code: 10PC
Some families often choose Nessy Fingers (about £30 a year).  Although, temporarily, they are offering a 2-month homeschool pack which includes Nessy Fingers and their Reading/Spelling programme for £30.
However, brilliantly, TTRS are offering a free six-month family subscription for all NHS workers (they just ask you to upload proof of NHS employment eg work email address, name badge or payslip). Click here to apply.  
These sorts of programmes can work brilliantly as step three in the process of learning to touch-type, but make sure you do step one and two first.
Step One is to learn the keyboard
There are lots of free places to start, such as BBC Dance Mat (or Doorway Online if they are too cool). You could try KAZ Type (£19.99 a year), which also has a dyslexia-friendly version.
Step Two is to really master and automatise the keys
It will be vital to keep checking that your child/teen is always using the same fingers to type the same keys, otherwise he will be unable to speed up and automatise this process, as needed.
Once they are solidly using the correct fingers, they might be kept motivated by low cost Typing game apps (such as Type Defender, Aqwertyan, Bubble Typing, Typing JR, Word Burst) using a full-size wireless keyboard. I like the games at www.freetypinggame.net.
This is the hardest stage, getting them to look at the screen and not at their fingers and to use the correct fingers. To help, I have found best results from combining three things:
a) writing out the keyboard from memory (this enables you to see which letters aren't automatised yet and which ones to target).
b) putting different coloured stickers over the keys, so they can see which finger to use, but not what letter that is.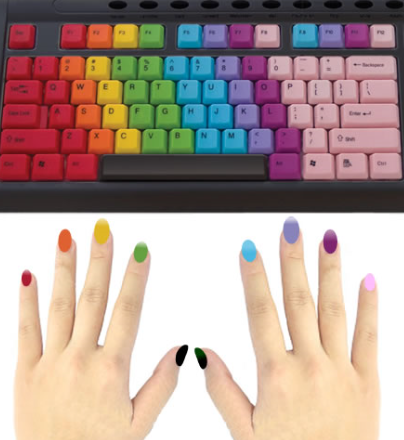 c) temporarily displaying the keyboard next to the screen, so they can look up, rather than down.
Step Three is to get faster and faster, whilst learning to spell all the words
This is where a phonics-based touch-typing programme is perfect.
Click here for more info about how ten minutes targetted touch-typing a day can transform your child's spelling.